It seems as if our truck and camper are off on their own adventures. We bid them farewell in Chile, after securing them into a shipping container and we headed back to Canada to wait our reunion which was scheduled for December 29th 2011. Oops did we get the year wrong did they mean 2012?
December 29th came and went, but no ship and no container. We went online and tracked our shipping container to Panama. OMG the container had been off loaded in Panama. Some of you may recall our Panama shipping experience, when they refused to load our truck camper and after much wrangling we managed to load it ourselves.
We were right to panic, the container was to be reloaded and transferred to another ship but the Panama dock workers damaged the container with a fork lift. Why are we not surprised! The container they claimed, was now too damaged to be loaded onto a ship. Eek what about the contents, our Nissan and camper. No damage they claimed and promised to send photos, we are still waiting for those. The Nissan had to be removed from the damaged container and transferred to new container. We held our breath will they refuse to load it this time, would we need to fly the "Squeeze Team" to Panama to rescue our Nissan?
We breathed a sigh of relief when we received an email detailing the new container number and ship's name. Except when we tried to track the container, (yes you can track containers and ship on the internet) we found it not in Panama but in Bogota Colombia!!
International phones call were made, emails flew through the ether. Nobody seems to know where our truck camper is. Not very reassuring but we remain optimistic. When shipping our Land Cruiser from the Cameroon in Africa it went off on its own adventures for 5 months, without telling us where it was but eventually made it way home.
We are not sure when the truck will arrive. We have had several dates in fact we have had several names of ships it is supposed to be on as well.
I have a message for our Nissan.
"If you see this post know that we still love you so please come home or just call to tell us you are safe."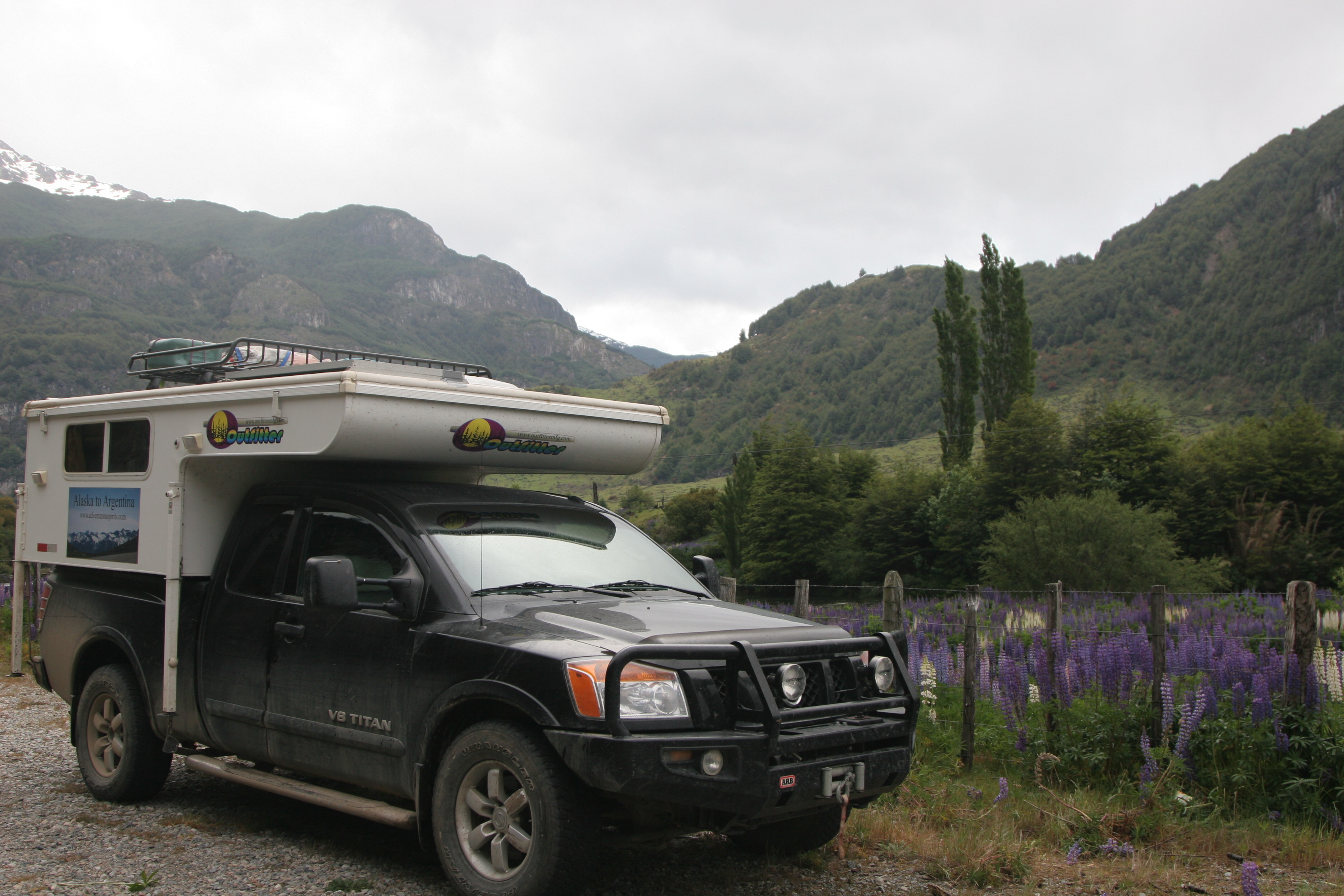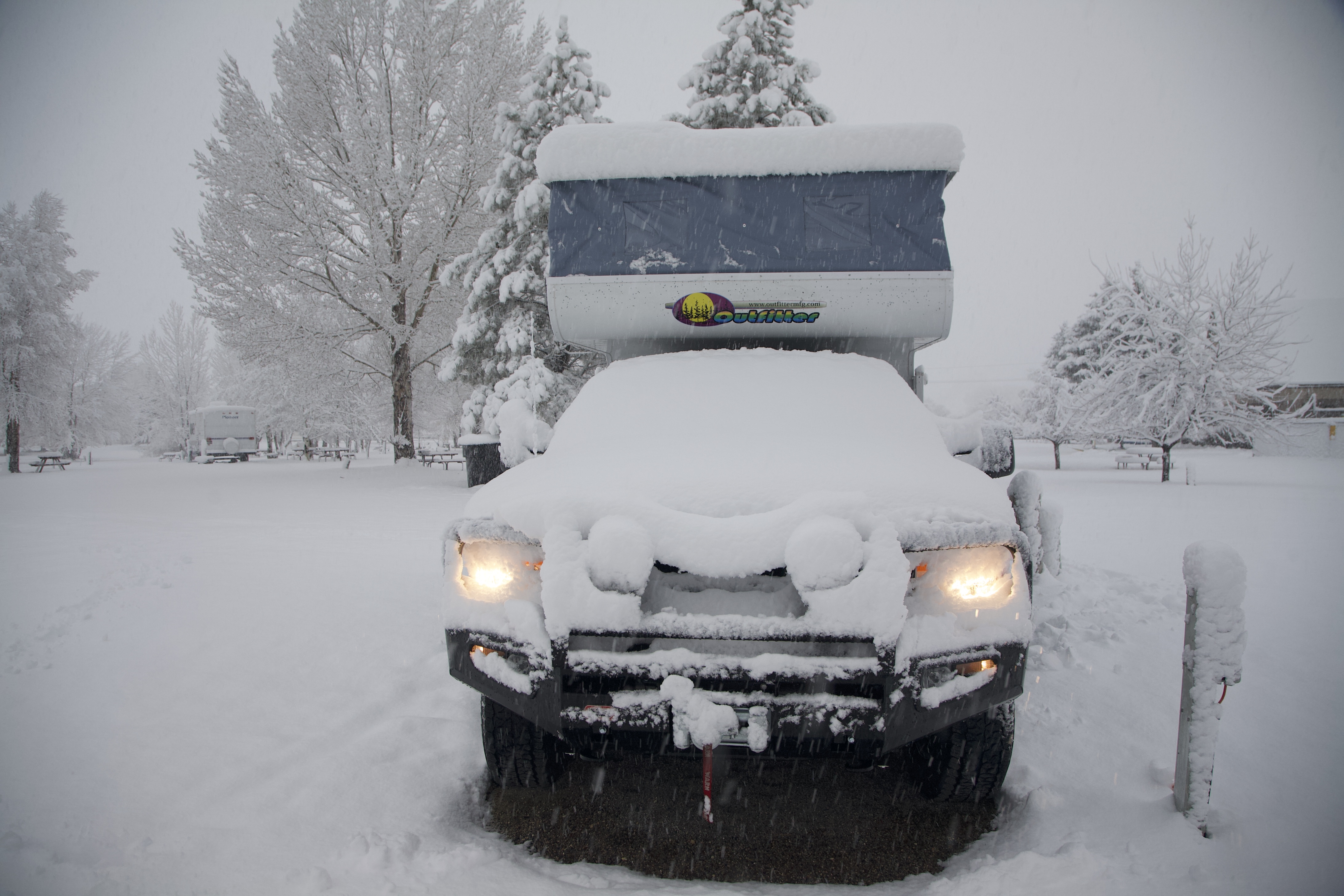 The phone call came from our shipping company, our truck and camper would arrive in the port of Vancouver on January 23rd 2012. Tom flew to Vancouver to pick up the Nissan, wondering in what condition the Nissan and camper would be in after being lost at sea for a month.
First, there was the Canada customs paperwork, then the soil tests, the sniffer drug dogs, the demands for more money and finally 4 days later the Nissan was ready for pick up from the shipper's warehouse. Huge sighs of relief, the Nissan looked exactly as we had left it; the camper had a little damage and had moved back about 4 inches towards the back of the trucks cargo bed. We suspect that either, the camper moved when they damaged the container in Panama or the ship hit a huge wave. The Nissan securely tied down in the container, did not move much, but it must have swayed breaking the exterior lights and damaging the roof. A Vancouver Nissan dealer checked out the Titan and all it required was an oil change.  Not bad after 65,000km on the road and a month at sea.
The Nissan was equipped with snow tires for its trip across the Rocky Mountains and the anticipation of winter driving conditions.  On route, Tom spent a delightful evening visiting with fellow Canadian overlanders at Abbotsford, and then it was time to head home.
Travelling east, first through the beautiful Fraser Canyon and then across the Rocky Mountains the highway was closed at Rogers Pass due avalanches and 22 feet of snow which makes for great skiing but challenging driving.
"The most treacherous drive since I left Calgary in June 2010!" Tom declared. You mean we could have had off road fun in our backyard I asked. He also declared it was the most beautiful drive since he left Calgary. You mean we went to the Andes when we could have just driven down the road to see stunning mountains.
Yes it is great to back in Canada surely one of the most beautiful countries in the world. The home comforts I love are our wonderful comfortable bed, the luxury of soaking in a clean bathtub, and having a washing machine to use at anytime.
Travel adventures off into the exotic worlds of foreign cultures, strange sounding languages, weird food, ridiculous toilets and friendly strangers. It is the lifestyle we both love and already the maps are once again out, even before we have finished unpacking.
We bought a house with the criteria, "easy to sell or rent." I think we will travel until as long as we are physically able. There is still a lot more world out there waiting for us.